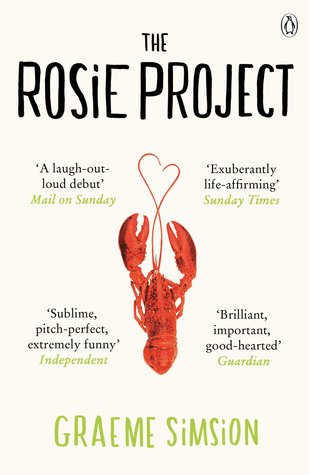 Não posso dizer que mergulhei neste livro às cegas, mas mesmo assim ele não deixou de ser interessante por isso.
É um romance diferente e diversificado e foi isso que me fascinou neste livro. O facto de a personagem principal ter o Síndrome de Asperger, por norma os autores preferem envergar pelo "caminho mais seguro" e retratar homens perfeitos, o que se torna um pouco enfadonho.
Foi bastante divertido "mergulhar" na mente do Don e ver as suas aventuras para encontrar a sua mulher perfeita. O final é mais do que previsível ... quer dizer, o livro chama-se "The Rosie Project", mas mesmo assim fiquei surpreendida com algumas revelações.
E podemos falar da capa? Podia haver capa mais perfeita para este livro? Nunca tinha percebido o porquê da lagosta, mas depois de ler a cena do primeiro encontro da Rosie e do Don, fiquei convencida.
É um livro adorável e de fácil leitura, bastante divertido, o que muito provavelmente deriva da escrita simples mas ao mesmo tempo completa.
Sinceramente, a sinopse descreve bem a história do livro e aconselho o livro a quem estiver à procura de um romance diferente.
Sinopse:
Meet Don Tillman. Don is getting married. He just doesn't know who to yet. But he has designed a very detailed questionnaire to help him find the perfect woman. One thing he already knows, though, is that it's not Rosie. Absolutely, completely, definitely not.